Banana Blaze®
Product info
Treat this lady with love and she'll be real good back to you. Be conservative with nutrients, she doesn't need strong feeds to reach her full XL potential. When grown well, Banana Blaze will yield heavy harvests of tasty buds thanks to the numerous side branches.
She often finishes in a Xmas tree shape with long blooms. She can reach 1.50m tall and flowers for about 8 weeks. You can smell a distinctive banana aroma around harvest time and this can also be tasted, especially on the exhale when smoked. This indica dominant variety gives a great, relaxing body stone.
The special genetics came from an awesome 1990's Dutch Passion gene bank banana indica. We had stored this "old-school" Banana Indica for a special breeding program just like this. The team were very impressed with the vigour and amazing terpene profile coming from this banana indica.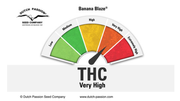 Auto Banana Blaze®
Product info
The autoflowering version of Banana Blaze is just as mind-numbingly potent as the original photoperiod version. The powerful effect and sweet, fruity, banana-like taste are very similar.
In 12 weeks, this light feeding auto grows from feminized autoflowering seed to a beautiful little Xmas tree up to a metre tall. She may not require nutrients every time your water her, but by looking at the plant she will tell you exactly how she feels and what she needs. This is good practice for all the growers out there!
In the right hands Auto Banana Blaze can produce 150 grams of top-quality bud per plant. Where possible we recommend growing this lady organically. The yields may not be quite as high as hydroponically grown plants, but the taste and quality of the product may reach new levels.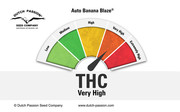 Sugar Bomb Punch®
Product info
Everybody loves to see glistening trichomes on their ladies. Some strains look frostier than others. One good example of a strain covered in sparkling trichomes, in which the cannabinoids are stored, is Sugar Bomb Punch.
Genetics come from THC Bomb x (Critical Orange Punch x Bubba Island Kush). This combination stands for 20%+ THC levels, a euphoric couch-lock stone and flowers covered with huge quantities of dense, glistening trichomes.
This short, indica dominant plant grows quickly into a short body builder. In just 9 weeks, she will be fully matured and harvest ready, leaves may darken towards the end. Typically, there are 4 phenotypes. Keep an eye out for the shortest one. She may look small, but it's not about size. The dense, dank and ultra-strong buds are heavier than one might expect. Often a small bud that appears sufficient for one joint is enough for two after grinding.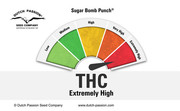 C-Vibez®
Product info
C-Vibez is a fast flowering hybrid variety. This heavy yielding beauty grows quickly to maturity with dense, aromatic buds. She takes around 8 weeks to finish blooming her rock-hard flowers. The average height is about 1.0m - 1.5m.
Most of these high-quality feminized seeds turn into short, green plants. About 30% show some colour (from purple to pink). This is a heavy yielder with an exceptional terpene profile.
Genetics come from Mad Scientist, accompanied by some outstanding Voodoo genetics. Voodoo is a massively potent original Dutch Passion Thai strain. These genetics are responsible for the strong "stone" consumers will experience while vaping/smoking the end result.
Despite C-Vibez being an indica dominant variety, there are remarkable fruity/lemony hints in the taste, especially when being burned.
This variety has deliberately not been bred to full stability. This ensures a rich selection of seriously high-quality phenotypes with vigour usually encountered in F2's and F3's.